Holidays on Lake Garda: what to do and what to see
What kind of holiday do you want to live on Lake Garda? Here are some tips for you, let yourself be surprised by the magic of the largest lake in Italy.
Lake Garda is a wonderful and surprising territory, full of places to see, locations to visit and activities to experience. Boredom surely doesn't know this corner of earthly paradise, dominated by nature, beautiful in every season of the year, explosive during the summer months. If you have decided to spend your
holidays on Lake Garda
, we present you all the nuances that can color your days, based on your interests and your curiosity.

Holidays on Lake Garda and sports
Doing sports in the open air, surrounded by nature and surrounded by clean and fresh air is a real privilege. At each glance you will discover a different facet, a new panorama, a particular view.
Let's start with the water, the main element of Garda:
- surf and kitesurf driven by the Pelèr wind, especially in the northern part of the lake;
- canyoning in the rocky gorges, among the streams, for those who want adrenaline;
- sailing or rowing boat, relaxing and fun experiences at the same time;
- scuba diving, because Lake Garda is splendid even below the surface of the water
And on land:
- trekking among the hilly and mountainous paths that surround the lake;
- mountain biking, following the many trails in the mountains;
- Nordic walking, because it is great to keep fit in nature;
- road cycling, among the many bike paths that connect the various coastal villages;
- golf, a noble sport made even more beautiful by the surrounding area's wealth;
- tennis, running, horse riding, and many others
We like to amaze you, in the air:
Who wants to try the experience of jumping into the void with a paraglider? During your holiday on Lake Garda you can also experience this activity!
We could define Lake Garda as a huge outdoor gym, a territory so varied that it lends itself to any type of physical activity, made even more surprising and exciting by the landscape and nature. We could call it the perfect destination for those who like to keep fit even on vacation.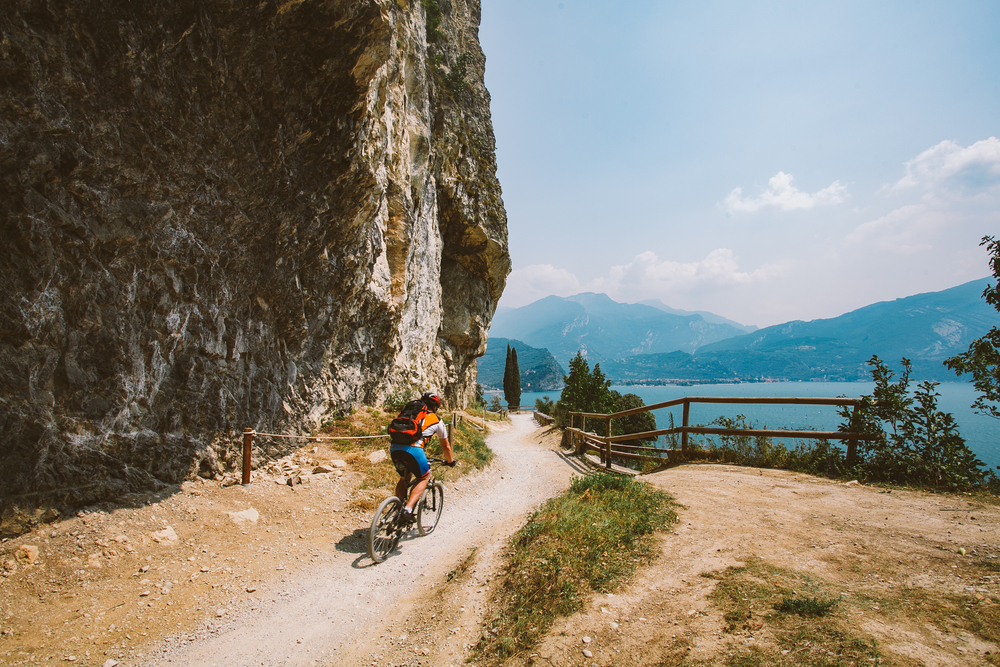 Holidays on Lake Garda and fun
The tourist season is really full of events, festivals, fairs, concerts and parties ... especially on the west coast that starts from Sirmione and Desenzano up to Riva del Garda. You will not find a day without events, especially in the evening, suitable for everyone young and old, families with young children and youth. Any examples? The "Notti bianche" of Desenzano, where the shops of the town center are also open in the evening, the musical Tuesdays of Toscolano Maderno with concerts on the entire lakefront, the "Happy Blue Hour" of Salò with aperitifs, exhibitions and music.

But the fun doesn't end here. Lake Garda is the kingdom of Europe's most famous amusement parks: Gardaland, Movieland, Caneva World, Natura Viva Safari Park, See Life, adventure parks like Rimbalzello Adventure and many others. You will never be bored, there is no doubt!

Holidays on Lake Garda and culture
Do you want to make a real dive into the past, besides the one in the extraordinary fresh waters of our lake? Very well, these territories are a cradle of history and culture, an open-air museum to be discovered and appreciated in all its facets.
During your cultural holiday on Lake Garda you have to include a visit to the
Vittoriale degli Italiani in Gardone Riviera,
only 10 minutes from our residence by car. What is it? The Vittoriale was the home of Gabriele d'Annunzio, today a museum with open-air theater with lake view and gardens full of fountains, waterways and beautiful plants in which to get lost. During the summer season, right in this amphi theater, an exceptional festival is organized with renowned artists from all over the world, singing, dancing and acting (for more information, we leave you the direct link to
Tener-a-Mente
).
Another Must-See of the area are the
Grotte di Catullo in Sirmione
, a huge well-preserved Roman villa, an archaeological example for the whole northern part of Italy of a private mansion of those times. Playing at home instead, we recommend our Villa Romana dei Noni Arii, here in Toscolano, only a two minutes walk from our Residence, also with lake view!
Speaking of museums, we leave you some useful links to discover the many museums that enrich the west coast of Garda, in our opinion each one of them deserves a visit during your holidays on Lake Garda:
-
Paper museum in Toscolano
-
Mu.Sa in Salò
-
Lemon house Castel in Limone sul Garda
-
MAG in Riva del Garda
-
Museum Divino Infante in Gardone Riviera
-
Museum Rocca in Manerba