Spacious and comfortable three-room holiday apartment on Lake Garda
Borgo Alba Chiara offers comfortable apartments for families and groups of friends on Lake Garda, in Toscolano Maderno.
apartments
Are you already dreaming of your future summer vacation? How about making it a reality and booking your apartment near the largest lake in Italy now? If you are looking for the perfect place to stay during the holidays, we have the right solution for you! We are talking about Borgo Alba Chiara, an elegant residence in Toscolano-Maderno, a village located on the western shore of Lake Garda.
The structure offers to its guests various particular, historical housing solutions, each welcoming and finely furnished. Among the accommodations you will also find three-room holiday apartments on Lake Garda, perfect apartments for families and groups of friends.
Let's see together the characteristics of these splendid accommodations.
How are the three-room holiday apartments on Lake Garda made up?

Each three-room apartment consists of three rooms, which means two bedrooms and a living room complete with equipped kitchen, dining area, sofa bed and TV. Then there is the private bathroom with shower and toilet. The three-room holiday apartments on Lake Garda can accommodate five to six persons and are therefore perfect for families with older children and teenagers who need their privacy or for groups of friends who are organizing their next summer. The
apartments of Residence Borgo Alba Chiara
are part of an ancient medieval building that has been completely renovated to accommodate guests in total comfort. The structure still has many original decorative elements, which make the atmosphere unique and magical. Inside the
three-room holiday apartments on Lake Garda
you will therefore find exposed brick and stone walls, wooden coffered ceilings with frescoes and poor art paintings. In short, your accommodation will be truly impressive, like the rest of the structure that will host you.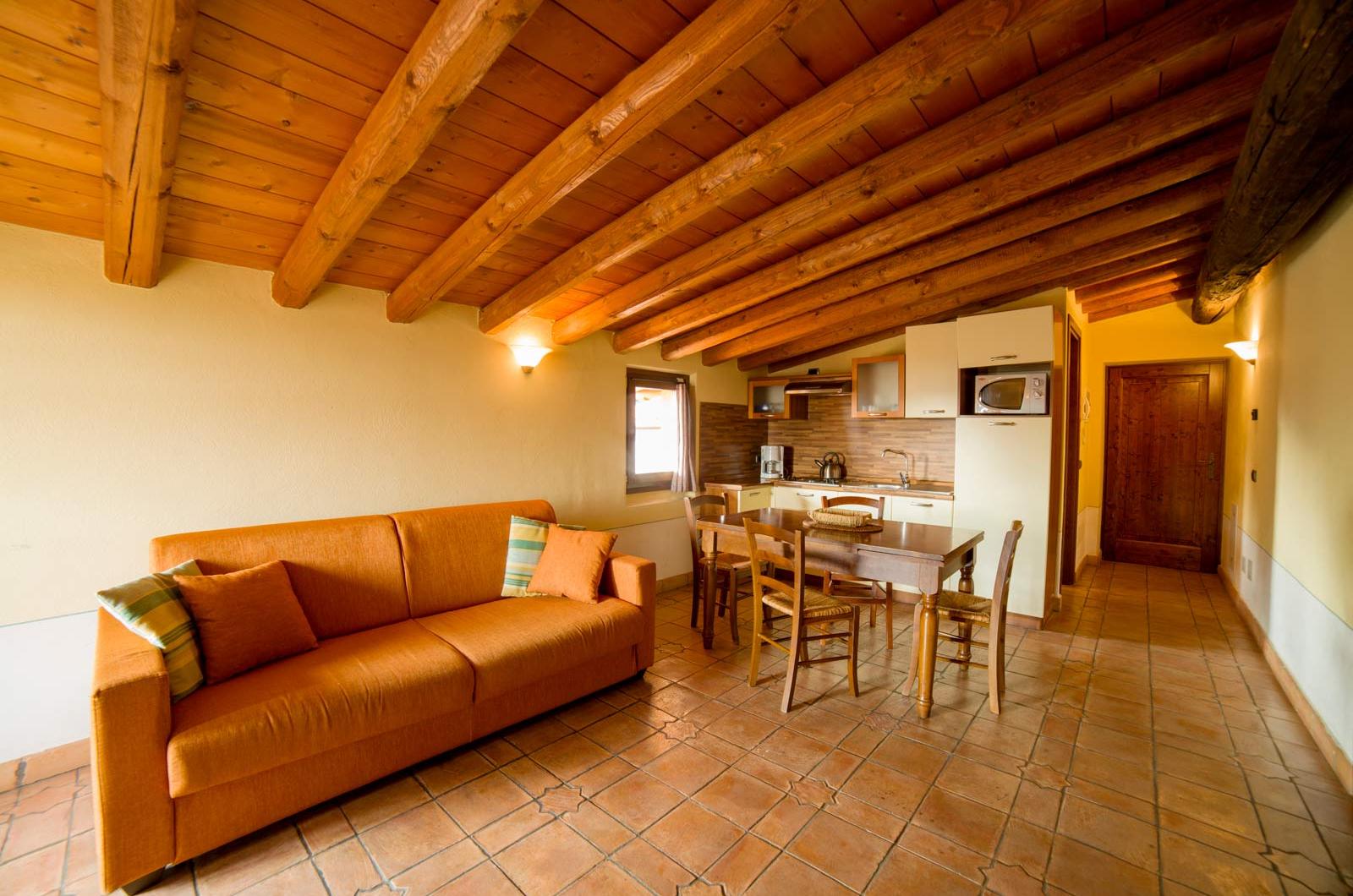 Three-room holiday apartment on Lake Garda: services dedicated to guests

The residence is located in a strategic position because it is just a few steps from the lakefront and the main beaches of the city.
In this way, you can go to the lake without having to use the car, an advantage especially during the busy periods of the high season. However, the location is not the only element that will make you fall in love with the place. The residence is full of
services
dedicated to its guests and which will make their stay really unforgettable.

Let's start with the two beautiful freshwater
swimming pools with a solarium area complete with sunbeds and umbrellas,
which you can use whenever you want to cool off, without needing to go to the beach. The swimming pools are located inside the garden where you can relax and read in the shade of the olive trees. There is also a
small playground
where your children have the opportunity to play and socialize. Furthermore, an area has been set up with a
built-in barbecue and wooden tables
, where your family can prepare delicious grilled food to eat in company.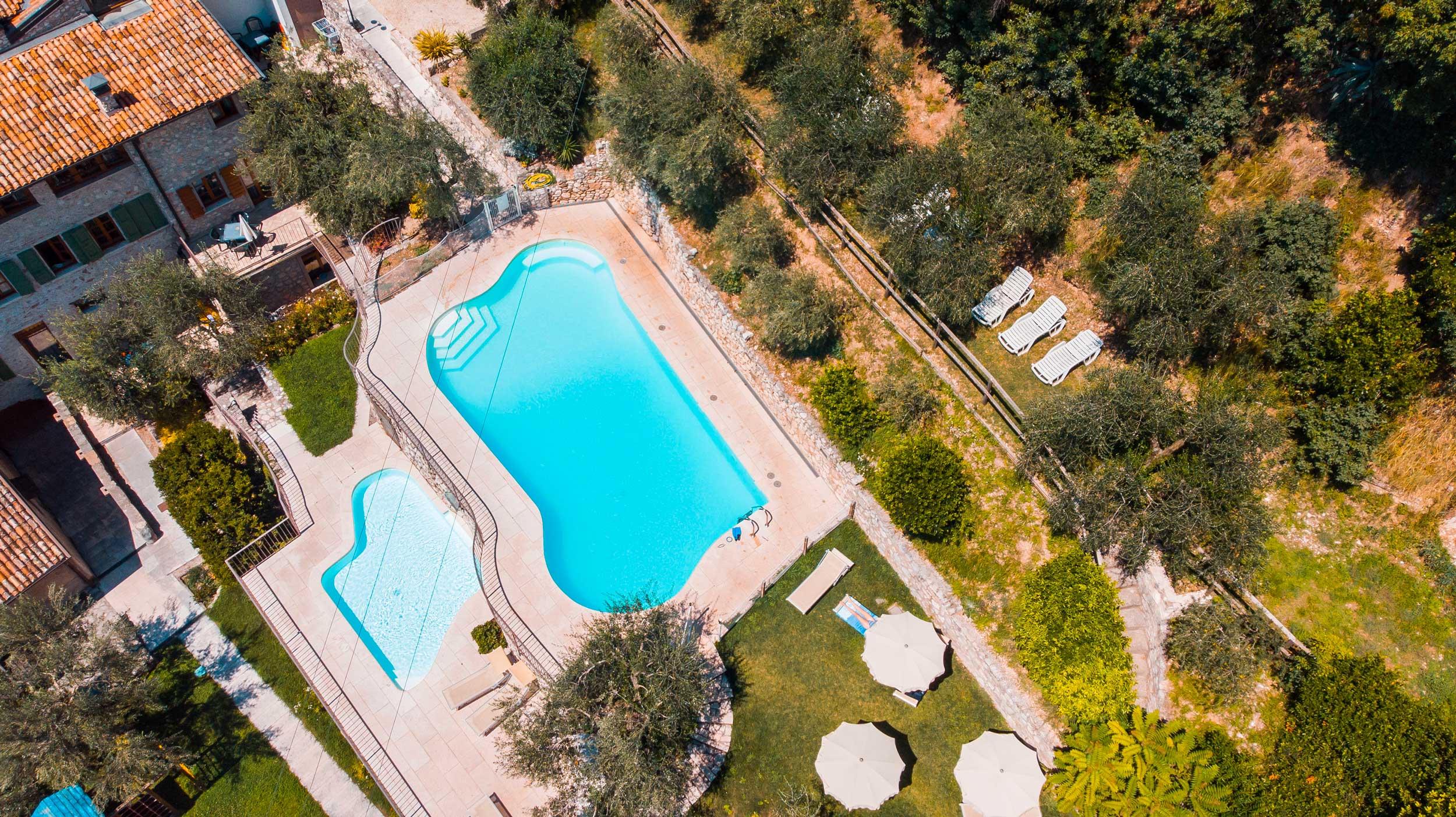 Book your three-room holiday apartment on Lake Garda at Borgo Alba Chiara now, take advantage of the offers!
Why choose a three-room apartment on Lake Garda?
Are you planning a holiday on Lake Garda and would you like to find a comfortable, practical and relaxing way to stay? The solution is obvious: choose to stay in an apartment, but being careful to select a structure of a certain level that makes you feel truly pampered, such as
Residence Borgo Alba Chiara
. Here, in the truly exclusive context of a completely renovated historic building, you can enjoy many services and at the same time have all the advantages of staying in an apartment. Any examples?

- Independence and autonomy in managing your time,
-
Being able to bring your four-legged friend with you,
- Absolute privacy,
The feeling of comfort of feeling at home even on holiday
- 
The convenience of having many private spaces and services (kitchen, living room, etc.),
- The feeling of experiencing your vacation spot like a true local
- The space that only the apartment guarantees you.

So, if you really care about comfort and want to feel independent, at ease, and in short as if you were at home even on vacation, but without giving up all the advantages of staying in an exclusive structure, what are you waiting for to book your holidays in Borgo Alba Chiara in the locality of Toscolano Maderno?
Holiday three-room apartment on Lake Garda in a privileged area
In short, as you will have understood, our three-room apartments combine comfort and services with the unique and special experience of staying in a truly characteristic historic residence.
But it doesn't end there! Another reason for choosing to stay overnight in our spacious and comfortable three-room holiday apartment on Lake Garda is the strategic location of the Residence. In fact, as already mentioned, we are in the suggestive village of Toscolano Maderno on the western shore of the lake, not far from Salò. In this area you will really feel surrounded by nature: in fact, you will be able to enjoy the view of
Monte Pizzocolo
, a mountain in the Brescian Pre-Alps that has always fascinated those who find themselves in these areas, so much so that Giosuè Carducci dedicated a few verses to it in his Ode Sirmione! The locality of Toscolano Maderno is also known for its wonderful beaches: the Lido Azzurro, the Riva Garda beach,
the Bau Beach dog beach
, and many others. What's better than being able to enjoy a day on the lakefront without having to put up with long journeys by car? And if, when you travel, you love to immerse yourself in the history of the place you visit, you cannot miss the Roman Villa of Toscolano, an ancient residence dating back to the 1st century AD where you can admire painted plaster walls and evocative ancient mosaics. Another point of interest in the area is the so-called
Valle delle Cartiere
, one of the most important industrial archeology sites in Italy. It is, in fact, the ancient paper production area where you can visit a museum dedicated to the history of its manufacturing.