Residence with swimming pool on Lake Garda: the added value
Residence with swimming pool on Lake Garda, just a few meters from the public beach and the historic center. We officially open on April 9, 2022, we are waiting for you!
residence / services
Have you ever thought about the features that cannot be missing in the structure that will host you for your next vacation? What are the things that make you choose a location rather than another?
Borgo Alba Chiara will officially open on April 9, 2022, therefore in early spring and in time for Easter.
Well yes, like every year, we open our doors to all tourists who want to spend their Easter holidays here on Lake Garda, surrounded by nature.
Take advantage of the super offers and current promotions.
Let's see what you have to pay attention to in the large offer for your holidays on Lake Garda.

The quality of the tourist facility
Here the images are very important. Look through the photographs of the bedrooms, the bathroom and consider the attention to detail in terms of furnishings, finishes and the environment in general.
- The geographical position
Very important, because a beautiful structure but far from everything is not good! Check the proximity to the lake / sea / city center and anything else that interests you, so as not to have to constantly move by car or other means of transport to reach the various places.
- The service proposal
Does it satisfy all your needs from a service point of view? Does it has a pool, a children's area, internet connection or anything else that is important to you?
- The price
Last, but not least, is the price, which must be related to the tourist offer and must not be exaggeratedly high.

The residence on Lake Garda Borgo Alba Chiara
Our residence fully meets all these features we have listed above. We will explain it better.
The recently renovated historic structure is really special and the rooms of the apartments have exposed wooden beams, terracotta floors and stone vaults. We have preserved the historical decorative elements that create a very particular atmosphere in the structure, unique in its kind. Each room is different from the other, take this plunge into the past, it will be a truly special experience.
The location of the residence is privileged: located 3 minutes walk from a beautiful public beach equipped for bathing, in the middle of the historic center of the town full of shops and 10 minutes walk from the boat dock for excursions on the lake.
And what about services? We can safely say that the pool is an added value to this
residence on Lake Garda
, also equipped with a barbecue area, free internet connection throughout the whole structure, parking space and a large playground for your children.
We get to the prices, judge for yourself! Check out our website and take advantage of the great low season offers.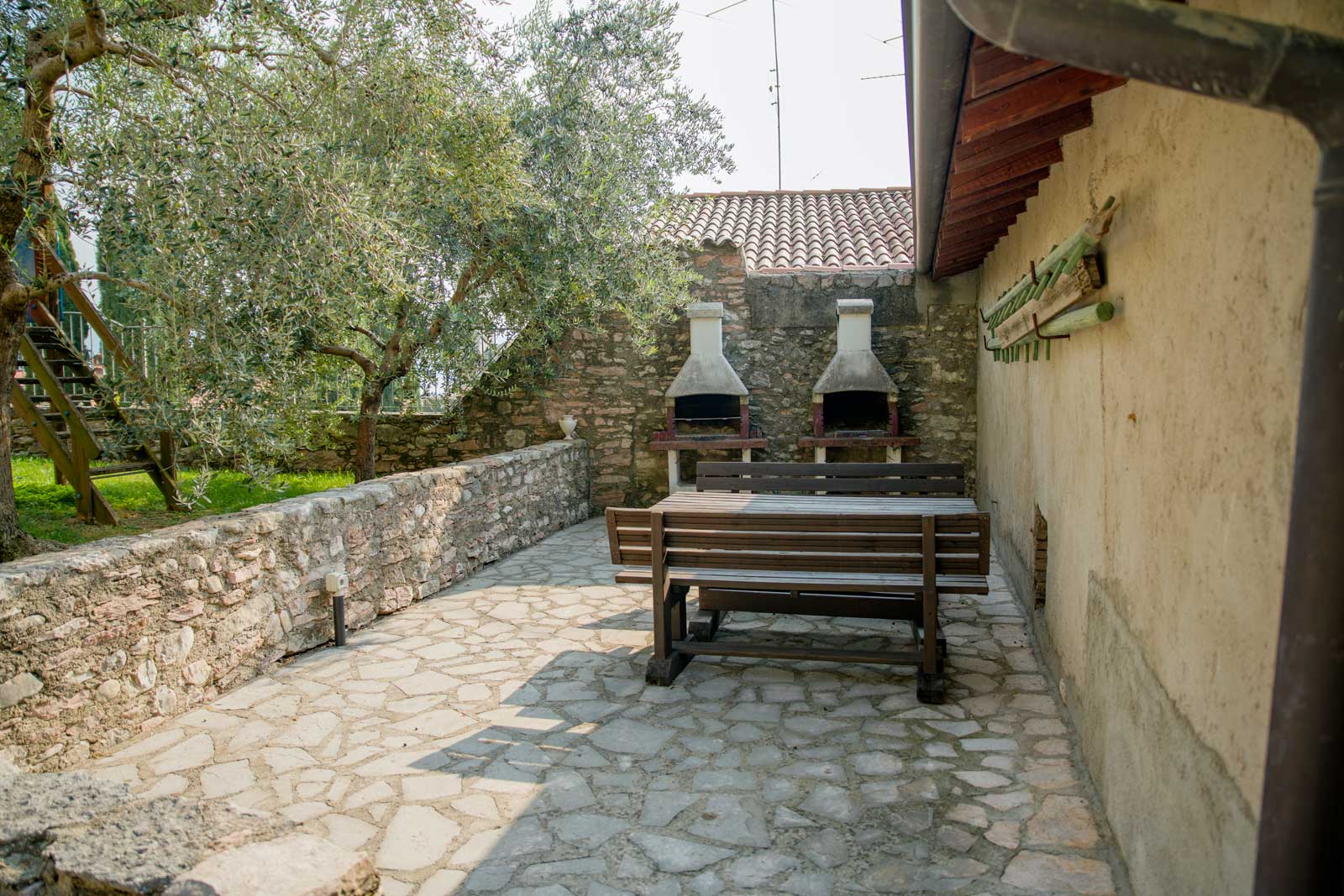 A family-friendly residence on Lake Garda with swimming pool
This solution could be the most suitable for families with children. We have two recently renovated swimming pools, one at a safe height for the little ones, the other for relaxation and fun for the older ones. And all around? A wonderful solarium area with grassy ground and very comfortable sun loungers for parents, who can safely sunbathe surrounded by local plantations and supervise their children.
Share the best shots of your holidays on the Borgo Alba Chiara Facebook page.

Additional services for your holidays

In addition, of course, to the presence of swimming pools in the residence on Lake Garda, which represent an added value, a guarantee of fun, an activity that pleases all tourists both young and old, we also offer
these services
that can enrich your holiday :
- equipped playground on grassy ground to allow children to socialize and play;
- a safe barbecue area for outdoor barbecues
- one private parking space for each apartment
- free wifi throughout the residence
- consumption of electricity, gas and hot water
- small dogs are allowed
On request, we can also provide bed linen, towels and baby sets (cot, high chair and baby bath), for a fee of € 6.00 each. We like to remind you that there is a also washing machine and dryer in the residence (to pay), so that each family (especially the numerous ones) can travel lighter, with less bulky luggage, and wash the laundry on site.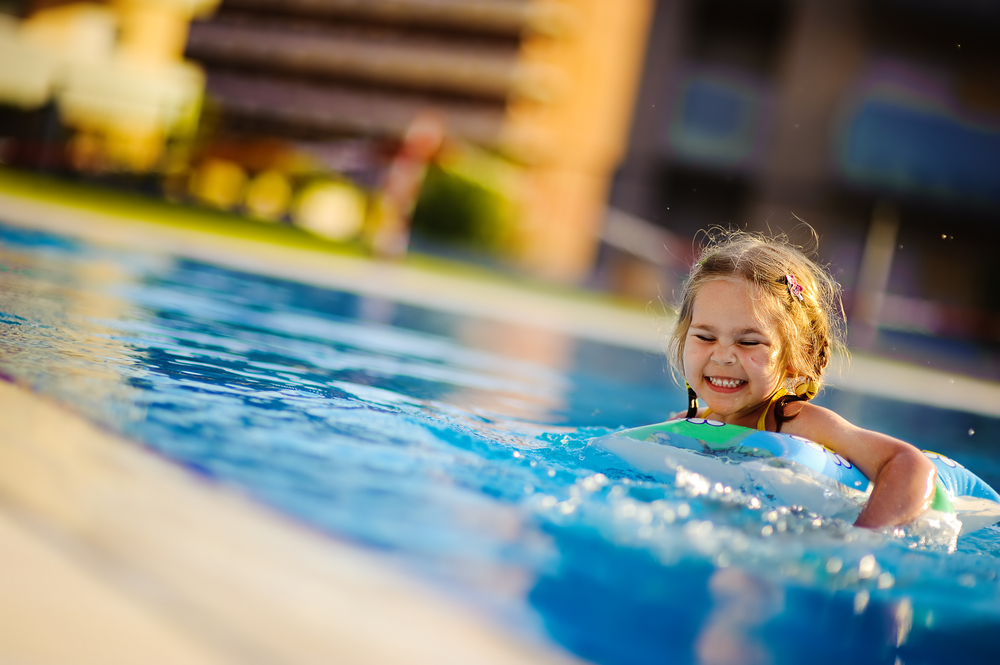 We offer ... slow turism on Lake Garda
Are you aware of those "hit-and-run" trips, those flashy stays of a couple of days, those mini-vacations they have accustomed us to? Well, forget all this. Our residence on Lake Garda offers slow turism, a slow tourism that can really enhance your holiday experience. We invite you to immerse yourself in the territory, to taste the typical km0 products, to discover all the views of the landscape through walks and excursions in the most characteristic corners of the coastal towns, to talk with the locals, to participate in the fairs and local festivals. Not just a simple holiday, but the holiday, the one you will remember over time and which will leave you with so many beautiful memories.
Slow turism, sustainable and valuable, this is the proposal of the
residence on Lake Garda with swimming pool
Borgo Alba Chiara.

Offers and promotions in our residence with swimming pool on Lake Garda
It is the custom of Borgo Alba Chiara to periodically propose
advantageous offers
for your holidays. In addition, we also offer flash discounts and unmissable term offers, all you have to do is
follow our Facebook page
and our blog on the website.