Holiday apartments on Lake Garda: 3 types of tourist
Holiday apartments on Lake Garda, hotel room or tent on a camping? A help with the choice
apartments
There are three types of holiday facilities, or rather these are the three most chosen by tourists, who arrive on Lake Garda:
- the hotel
- the camping
- the apartment

A holiday on Lake Garda: hotel, camping or apartment?
Those who choose the hotel want a completely relaxing holiday, without having to tidy up the room where they sleep or the preparation of lunch and dinner. However, he must respect strictly set times and "settle" with the kitchen and above all it will certainly have a higher expense to be paid on equal terms (location and time of stay).
The tourist who chooses the camping prefers a holiday completely immersed in nature, far from the frenetic rhythms of the city, far from the concrete to which he is accustomed. In this case, there is necessarily to share the common areas with many other tourists and some conveniences may be less depending on the chosen structure.
Let's talk now about the
holiday apartments on Lake Garda
.
Those who choose this type of vacation do not want to give up on comforts and spaces, as well as privacy. He definitely prefers cooking food and recipes that the family likes most and organizing the day with times and activities as he sees fit, ideal if there are small children. If we add to this the wonderful natural location of Lake Garda, it is perfect.

Holidays on Lake Garda in an apartment, unique solutions!
If you want a particular, original holiday apartment on Lake Garda, not the usual proposal, furnished in a simple and uncared way, the Residence Borgo Alba Chiara is the right one for you. We have
two-room
,
three-room
and
four-room apartments
obtained inside a beautiful
medieval historical residence
, recently renovated respecting the original architectural elements. Even the furnishings of the apartments themselves were designed by a professional, who mixed the past and the future with great skill, choosing to enhance all the historical details of the structure, such as terracotta, the details of the wooden roof or the decorative and religious niches,
with modern elements such as LED spotlights or technological accessories.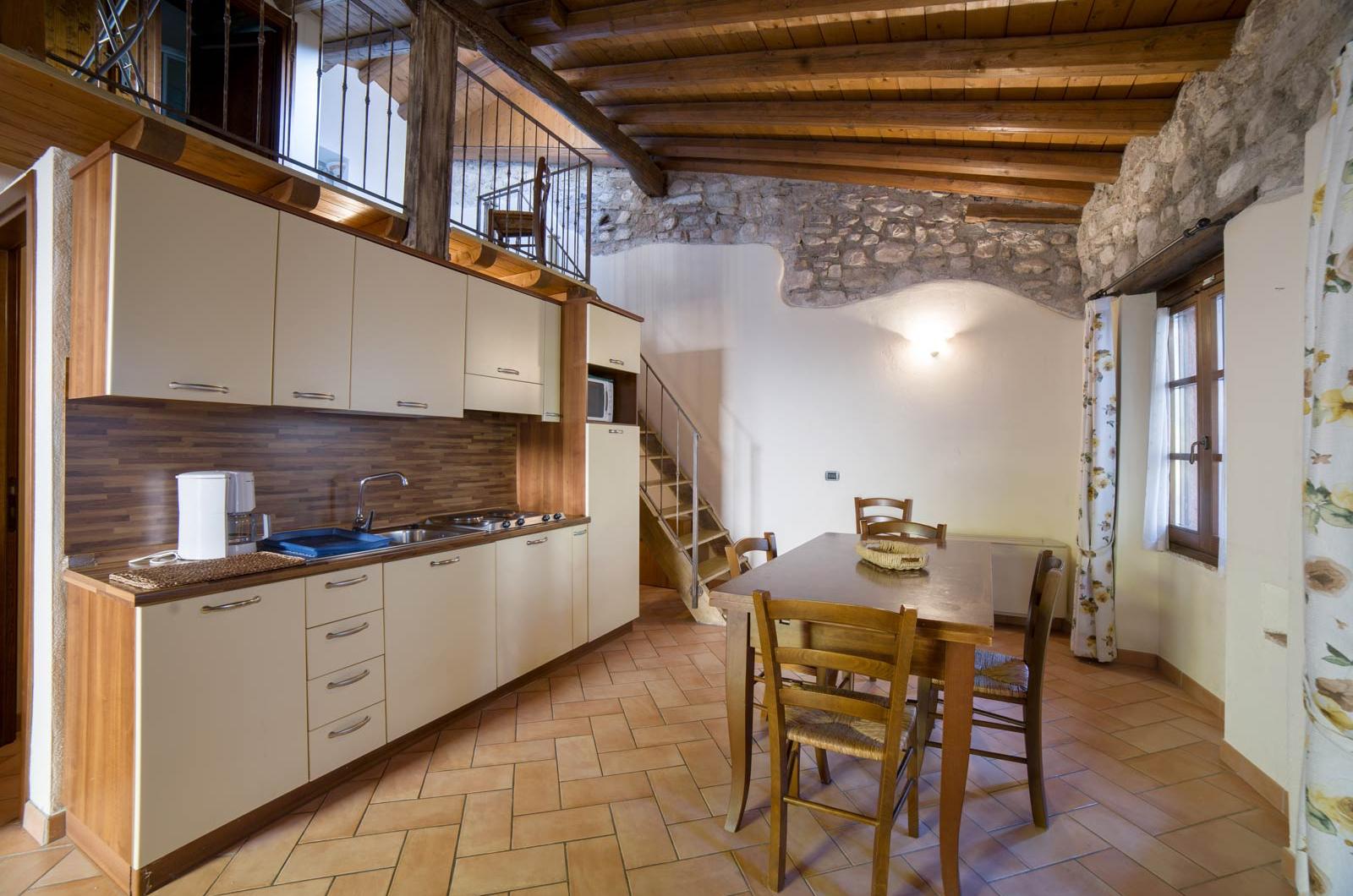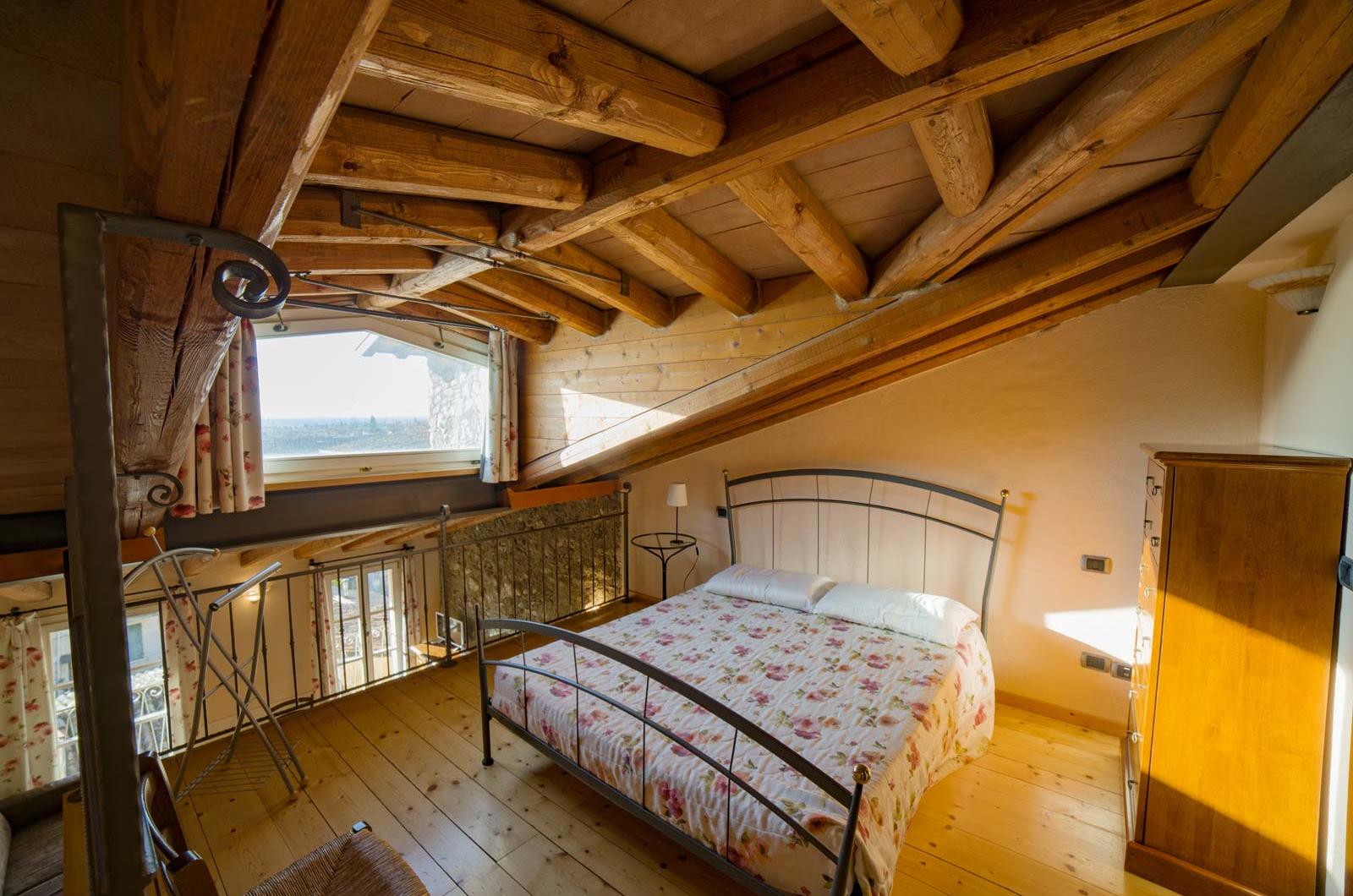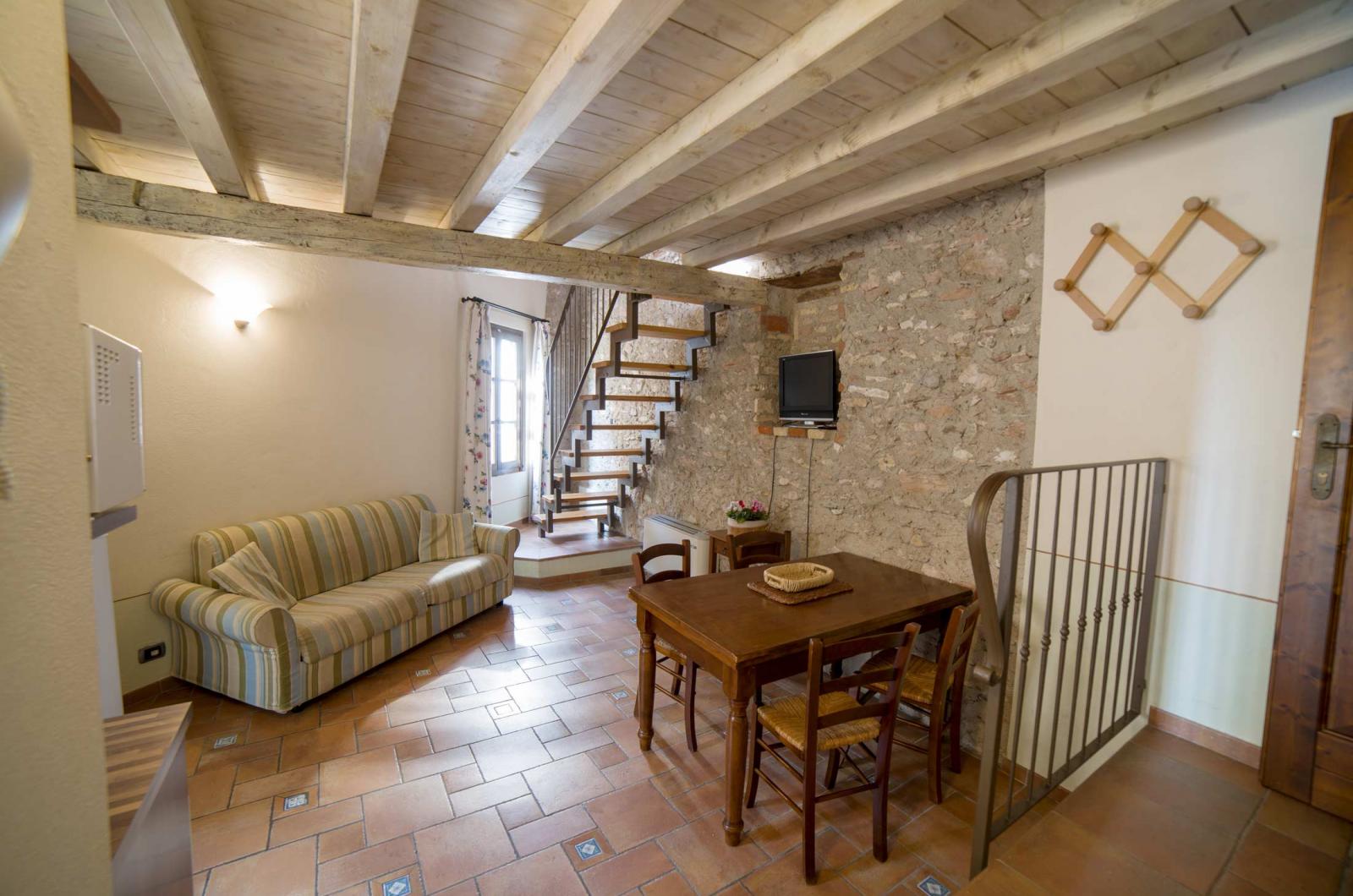 The services of the residence that houses these apartments on Lake Garda
These are not simple apartments, but real 360-degree holiday proposals. We don't just rent the space and the structure, but we provide you with a
series of services
that make your holiday truly unique:
1.
two swimming pools
, one for the little ones with a safe area with adequate depth
2. solarium area with sunbeds surrounded by nature, located on the lawn around the swimming pools
3.
free wifi connection
everywhere, not only in the apartments but throughout the whole structure
4. playground with swings and slides
5. barbecue area for outdoor grilling
6.
pet friendly
, even small and medium-sized dogs are welcome
7. private parking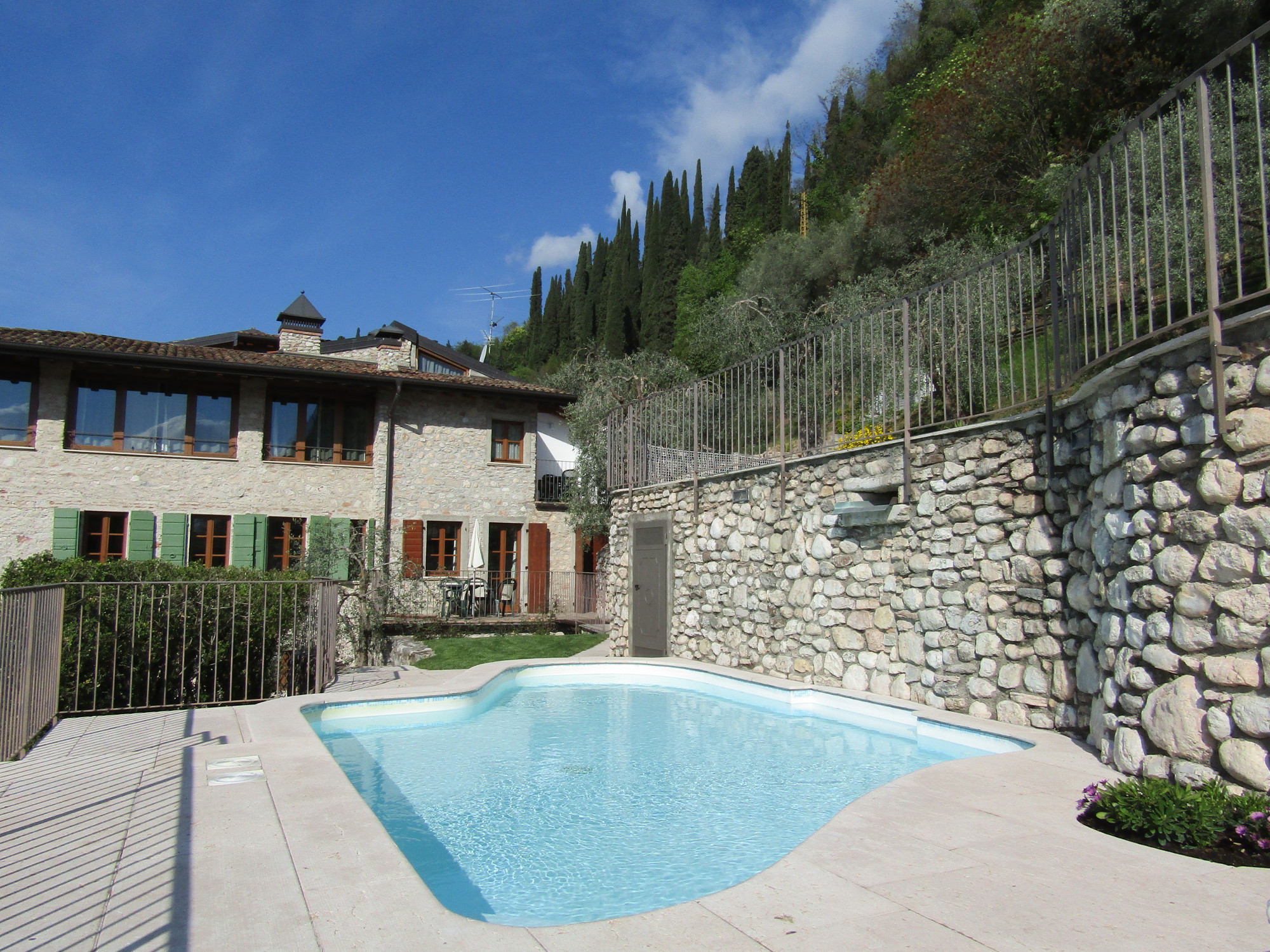 Which tourists choose our apartments on Lake Garda?
Every year we host hundreds of tourists from all over the world, with very different characteristics. Certainly on the first place are families, with small and large children, who want to spend a long, fun and relaxing stay on Lake Garda, having everything within walking distance without necessarily having to move by car or other means. Immediately after, we find couples, young and old, who want to enjoy the area, who go to the discovery of the most hidden natural spots and who want to spend time in the utmost carefree. In third place there are tourists who come to Lake Garda for good food and wine or for sport ... the largest lake in Italy is in fact the perfect destination for those who want to taste exceptional typical products (wines, cheeses, fish from the lake, truffle, olive oil and so on) or for those who want to experience fun outdoor sports (windsurfing, canoeing, paragliding, mountain biking, etc.).

Characteristics of the holiday apartments on Lake Garda
Depending on the size of your family, you can choose between the different private accommodations of Residence Borgo Alba Chiara.
1. Two-room apartments
These holiday apartments on Lake Garda can accommodate up to a maximum of four persons. They are perfect for couples and for families with a small child. The two-room apartments consist of a double bedroom, a living room with an equipped kitchenette and a sofa bed, a private bathroom.
2. Three-room apartments
The holiday apartments are complete with two bedrooms, private bathroom, dining room with kitchenette combined with the living room including sofa bed and TV. They are suitable for families with children and teenagers and guarantee a space of privacy for all family members.
3. Four-room apartments
Finally, we have four-room holiday apartments with an area between 60-80sqm. The private accommodation consists of two separate double bedrooms, a single bedroom that opens onto the living room, dining room with equipped kitchen and open space living room with sofa bed and TV, private bathroom.
All apartments have independent heating and air conditioning to ensure a cool and dry accommodation even on the hottest days. You can request bed linen and towels, so you can travel even lighter. All you have to do is pack your suitcase with your clothes and leave, what more could you ask for than a stress-free holiday full of relaxation. Book your apartment right away!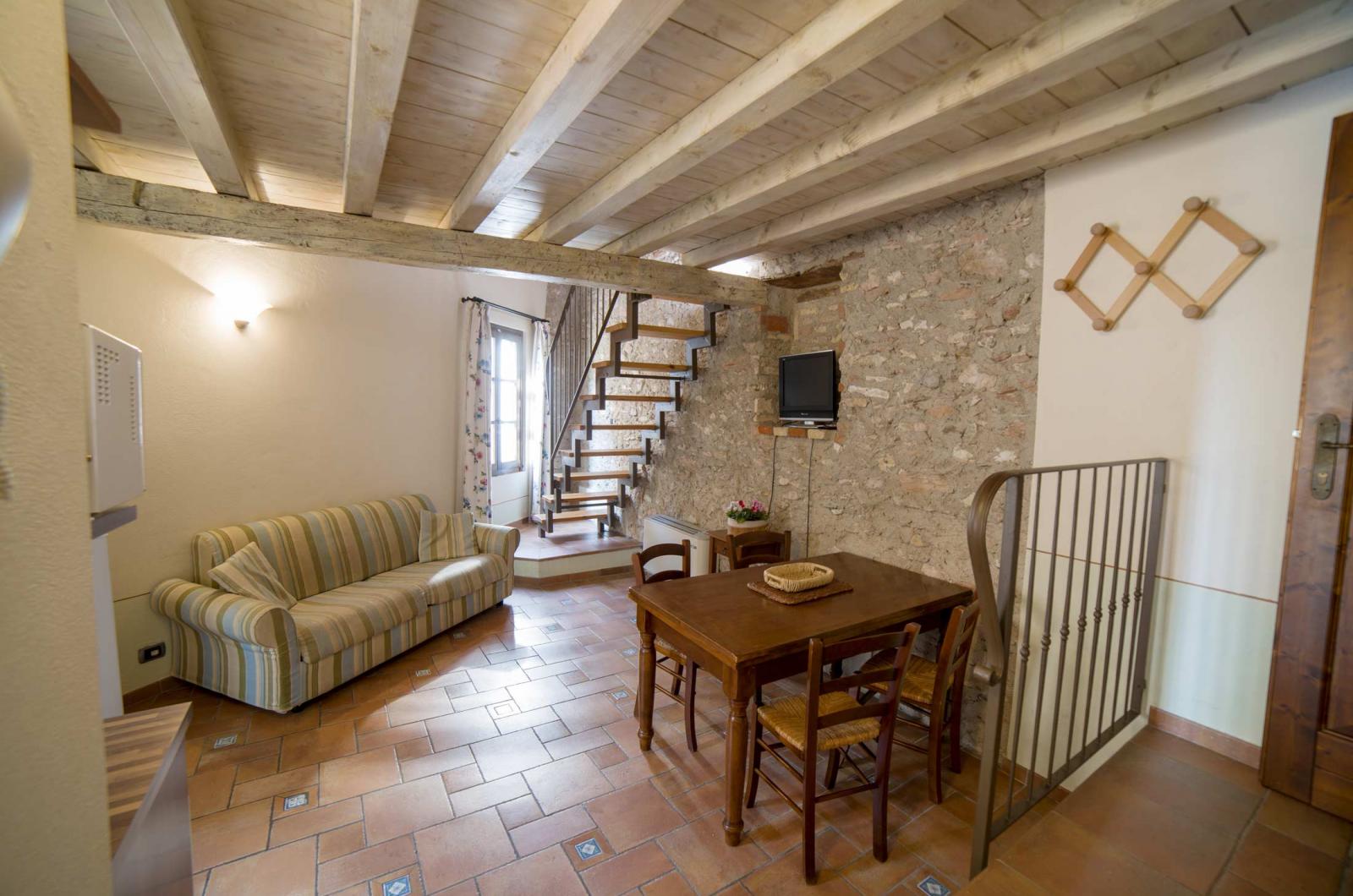 Apartments on Lake Garda: we are open!
Fortunately, the Coronavirus emergency has improved a lot and the arrival of spring-summer gives us further hope. We kicked off this tourist season 2022 on the 9th of April, so Residence Borgo Alba Chiara is officially open. We are waiting for you in one of our wonderful holiday apartments on Lake Garda, immersed in the nature and tranquility of the place, a true oasis of peace.
Consult the website, browse our
online Booking
to discover all the offers we have designed for you. For any other information please do not hesitate to contact us.