Discovering the residence on Lake Garda, pets allowed
Come and enjoy the wonders of the Garda lakefront with the whole family in Borgo Alba Chiara, a residence on Lake Garda where your dogs are allowed.
services
Lake Garda: the perfect destination for a holiday with our four-legged friends
Leaving your dog at home during the holidays is always a hard blow, but it is not easy to find solutions that allow his presence like our Residence Borgo Alba Chiara, nor to identify the perfect location that can guarantee fun and relaxation for us and for our beloved puppies. Lake Garda is definitely one of them! It is, in fact, an impeccable holiday location for when you decide to travel with your dogs, because there is no shortage of activities to do with them and will make your stay together truly special. First of all, in the area there are many beaches where dogs are allowed where they can spend a special day, playing in the sand, swimming and running with their four-legged friends. Around the lake, there are many outdoor activities to do, first and foremost trekking. What's better than walking with your puppy, admiring the landscapes of along Garda and enjoying the lake air? If you prefer villages and shopping to natural landscapes, then you will be spoiled for choice. There are many small, characteristic towns where you can take a walk with your dog, stop in a shop for some souvenirs or enjoy a good ice cream. In short, if you want to spend a few days out of the city without leaving your dog at home, please contact us!
The apartments of the Residence on Lake Garda where pets are allowed
Borgo Alba Chiara offers different types of
apartments
within a completely renovated 16th century medieval building in which all the original decorations have been kept, for a suggestive location rich in history. Depending on the size of your family, you can choose between:

● two-room apartment (up to 4 persons)
● three-room apartment (up to 6 persons)
● four-room apartment (up to 7 persons)

Our pet-friendly residence on Lake Garda will therefore allow you to stay in absolute comfort and in the company of your four-legged friends. Each apartment is complete with bedrooms, living room with equipped kitchen and private bathroom, all set in environments with wooden beams and exposed brick walls.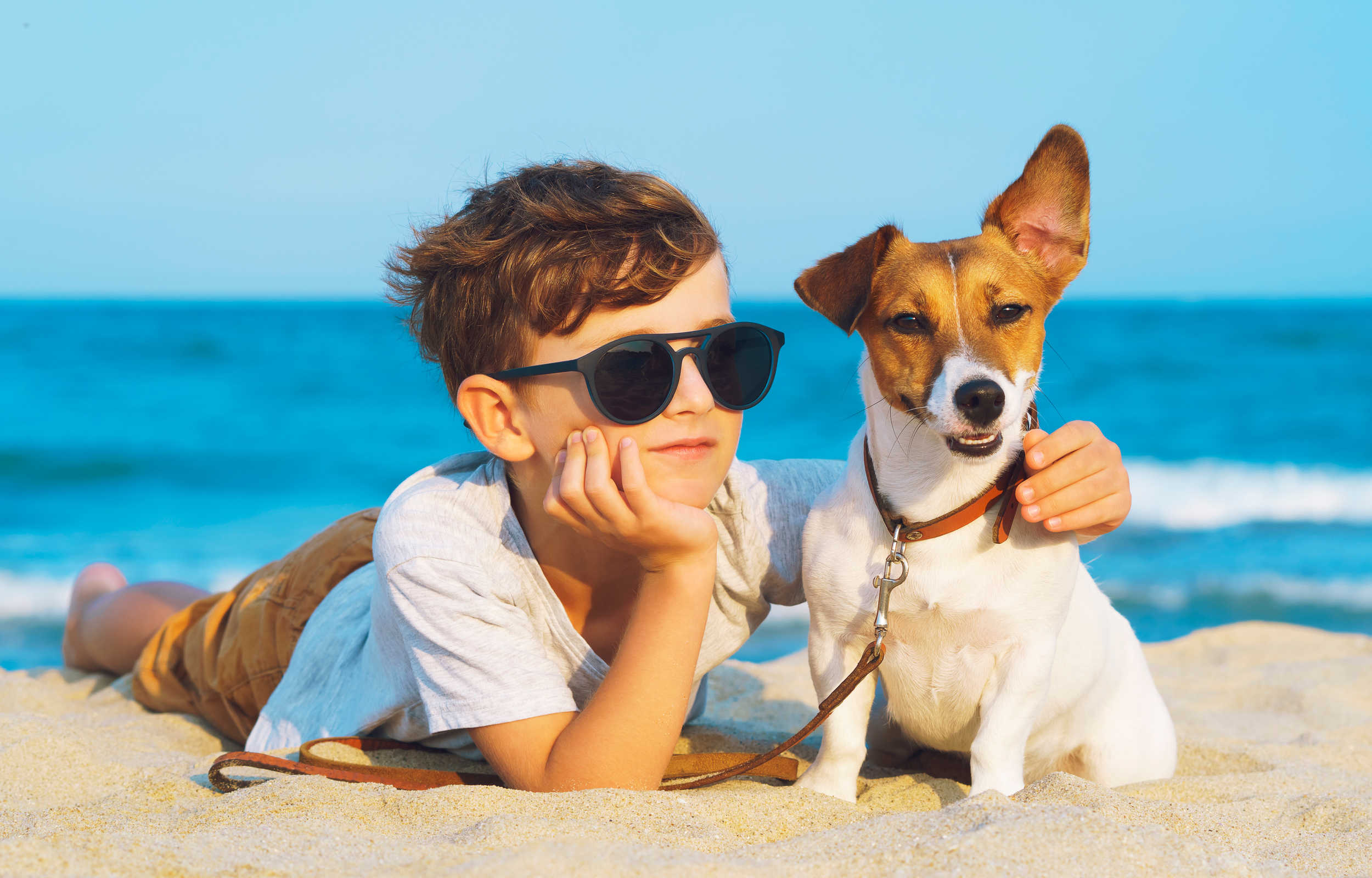 The services of the Residence on Lake Garda
Staying in our apartments you will have a range of services included to allow you to fully enjoy your holiday. The residence on Lake Garda Borgo Alba Chiara has two swimming pools for the enjoyment of young and old, a play area for children, brick barbecue station and a large common green area in which to relax and immerse yourself in nature together with your trusted animal friends, reminding you to keep them close to you and to respect the rules for a hygienic space that can be used by all.

As for the beaches to visit with your dog, don't worry!
A few steps from the residence you will find the spacious Bau-Beach, the perfect place to spend your days and to immerse yourself in the fresh water of the lake.
If you are open to adventure, this is not the only beach or place where you can go accompanied by your four-legged friend to spend a day full of activities. The area offers a lot of naturalistic entertainment, such as splendid walks in the woods and in the mountain areas, perfect for you and your dog!

Why choose a residence on Lake Garda
What are the advantages of staying in the apartments of the residence on Lake Garda Borgo Alba Chiara? The first advantageous feature of these private accommodations is the privacy and relaxation they guarantee. Each two-room, three-room and four-room apartment is equipped with everything you need for a
comfortable holiday
. They are in fact equipped with bedrooms, private bathroom with shower, open space with well-equipped kitchen, living room with TV and dining table. This allows all guests to be completely independent and to rest at their best. You will therefore not have to worry about lunch and dinner times, you can decide to stay on the beach until sunset without being forced to return. The second advantage of the residence on Lake Garda is the proximity to the Toscolano-Maderno lakefront, the locality where the structure is located. You can forget about the car and walk to the beach which is just a few minutes from the private apartments. In this way you will not have to stress to find parking and you can appreciate the beautiful landscape that you will find on the way to the lake. The third advantage is that the residence is surrounded by olive trees and has a beautiful garden where you can relax during the day. To stay surrounded by greenery, just go to the common area, without having to move outside the structure. What more could you ask for!


Residence on Lake Garda: what to do?
The activities that you can do once you have placed your suitcases in your private apartment are many. If you are a mountain lover and you like walking and trekking, the area offers many trails for both beginners and experts. You will find many paths suitable for children and also those where you can walk with your four-legged friends. If, on the other hand, you like water sports, Lake Garda is famous for the many activities that can be done in its waters including:
●    sailing
●    windsurfing
●    canoeing
●    sup
If you are not practical you can book an instructor to help you. In this way, fun is guaranteed and you can learn a new sport in the company of your loved ones. If you are traveling with children, activities on the lake can be an original way to spend the morning or afternoon.
In addition to physical activities, there are many places to visit to get to know the area better. You can go and discover the Vittoriale with its museum and its beautiful garden or get to the Rocca di Manerba to see the archaeological site and the Archaeological Civic Museum of Valtenesi. If, on the other hand, you want to combine a walk with cultural activities, we recommend that you follow the path in the Valle delle Cartiere and go and see the Paper Museum which is located at the beginning of the walk surrounded by greenery.
The activities are really many, you just need to book your
apartment in the residence on Lake Garda
and start planning things to do and see.